Why You Should Rent a Beach House for Your Next Vacation. When it comes to planning a vacation, there are countless destinations and accommodation options to choose from. While hotels and resorts offer their own set of advantages, there's something truly special about renting a beach house for your next getaway. Whether you're seeking relaxation, adventure, or a perfect blend of both, here are some compelling reasons why you should consider a beach house rental for your upcoming vacation.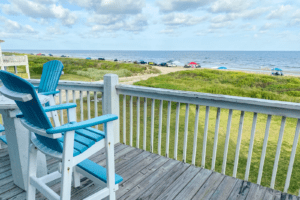 Why You Should Rent a Beach House for Your Next Vacation
Unparalleled Ocean Views: Waking up to the sound of waves crashing and a breathtaking view of the ocean is a luxury that few other accommodations can match. Beach houses often offer direct beach access or are just a stone's throw away from the shoreline, providing an immersive and serene experience.
Privacy and Space: Beach houses offer a level of privacy that hotels and resorts can't match. You'll have the entire property to yourself, which means you can create your own schedule, cook your meals, and enjoy the company of friends and family without the intrusion of other guests.
Cost-Effective for Groups: If you're traveling with a large group or extended family, renting a beach house can be much more cost-effective than booking multiple hotel rooms. Many beach houses come equipped with multiple bedrooms and common areas, making it ideal for group getaways.
Home Away from Home: Beach house rentals often feel like a home away from home. You can settle in comfortably, and many come fully furnished with all the amenities you need, such as a fully equipped kitchen, cozy living spaces, and sometimes even a private pool or hot tub.
Local Experience: Staying in a beach house allows you to immerse yourself in the local culture and lifestyle. You can explore nearby restaurants, markets, and attractions, interact with locals, and get a true taste of the destination's charm.
Flexible Dining Options: With a beach house rental, you have the freedom to cook your meals, which can be a significant cost-saving. Enjoy breakfast on your terrace with an ocean view, barbecue by the beach, or try your hand at local cuisine using fresh ingredients from nearby markets.
Beach Activities at Your Doorstep: Whether you're into swimming, surfing, beachcombing, or just sunbathing, having the beach right outside your door means you can indulge in your favorite beach activities at any time of the day.
Pets Welcome: Many beach houses are pet-friendly, which means you can bring your furry friends along for the vacation. This is especially appealing to pet owners who want their beloved companions to enjoy the beach with them.
Perfect for Special Occasions: Beach houses are excellent for celebrating special occasions like anniversaries, birthdays, or family reunions. The intimate setting and beautiful backdrop can make these moments even more memorable.
Unwind and Reconnect: The sound of the waves, the scent of the salt air, and the stunning views create a tranquil atmosphere that promotes relaxation and a chance to reconnect with loved ones and nature.
Renting a beach house for your next vacation offers an array of advantages that can make your trip truly unforgettable. From the stunning views and privacy to the flexible dining options and the opportunity to embrace the local culture, a beach house rental is an excellent choice for those looking to experience the perfect blend of relaxation and adventure. So, whether you're planning a romantic escape, a family getaway, or a reunion with friends, consider a beach house and discover the magic of a beachfront retreat.
If you are planning a vacation in the Panama City Beach Florida area, check out the rentals at Panama City Beach House Rentals.